The Officials in Five Element Acupuncture
Taking this course, you will
Understand how the designated officials and their roles broaden and deepen our understanding of the zangfu organs, and give a new understanding of how the officials work together.
Learn how these roles, and the associated nicknames, manifest through the organs at the levels of spirit, emotion and physical body.
Recognise these imbalances in your patients, and move into a five element acupuncture understanding of the organs.
Gain insights into the classical understanding of the zangfu, and how to incorporate this into your practice.
Course Overview
In this captivating course, Danny Blyth explores the world of Five Element Acupuncture, as originally outlined in chapter 8 of the Suwen (Simple Questions). You'll gain a profound understanding of the twelve officials, their heavenly and earthly roles, and the intriguing 'nicknames' assigned to each organ based on the five elements.
Danny also takes you on a journey through the structure of Suwen 8, comparing notable translations and unraveling the significance of the officials' order in classical organ understanding. By the end of this course, you'll have a newfound appreciation for the foundations of Five Element Acupuncture.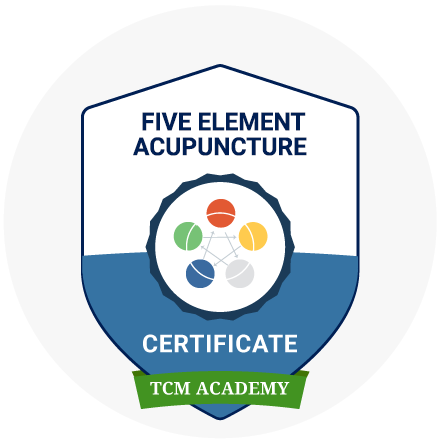 This course stands beautifully on its own, offering a wealth of knowledge and insights. Additionally, it's an integral part of our comprehensive 5 Element Acupuncture Program. If you're interested in deepening your journey in this fascinating field, click on the icon on the left. There, you'll find all the details and enrollment options for the program. Whether you're exploring this course individually or as a step in the broader program, we're excited to support your learning journey.
This course is approved by:

Course Reviews:
Danny is an inspiring, knowledgeable and cool teacher.
Very good course. So happy I took it. I really enjoyed it and it gave me new and more information about each "official". Danny is an inspiring, knowledgable and cool teacher.
---
Disclaimer | Before You Purchase
Accessing Your Course

After the checkout, the course will be automatically added to your account, and unless otherwise specified, you can start learning immediately.

The course is always available for you if you have an internet connection.

To watch your course, log in. You can reach your courses from your account or the course page.
An easy way to find it is under "My Academy" => "My Courses" on the top bar.
Unlimited Access

Once purchased, we grant you a lifetime access license. See more on our Terms of Use page.

We encourage you to return to courses as learning continues; in each view, we learn and understand new things.
CEU/CPD/PDA

Unless otherwise stated, CEU/PDA/CPD requirements must be completed within 1 year of the purchase. You are advised to print and save your certificate for your records and under your association requirements.

Dimploamtes of NCCAOM & Floridas members need to fill in a form after completing their courses for us to submit the points. CAB & Fachverband members need to write to us an email upon completing their courses to get the required documents. Look for our email after the completion of the course.
About the Teacher

Login
Accessing this course requires a login. Please enter your credentials below!