Wu Wei 無為: Non-Acting in Daodejing
What will you learn
Understand the basic term Wu Wei, Non-Acting, from a Taoist view.
Realize what lies at the core of an action in harmony with the movement of life.
Bring Wu Wei into your clinic and see how does it apply to our work with patients?
Course Overview
Usually translated as non-acting, non-interference, no deliberate action, etc. Wu wei 無為 is to let things take their own course. It is not
inertia or complete passivity, but a way to cultivate oneself to diminish personal desires, interests, ambition, etc.
The Daodejing, Book of the Way and its Virtue, presents how activities coming from this emptiness of the Heart/mind are aligned with the natural movement of life and full of an effective potency.

This course is approved by: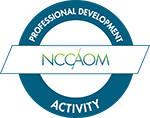 Course Reviews:
There are no reviews yet. Be the first one to write one.

This course has an handout. Available for enrolled students. 
About Instructor

Login
Accessing this course requires a login, please enter your credentials below!