The Biochemistry of Acupuncture
What will you learn
Explain how acupuncture works using known scientific medical concepts.
Gap the seemingly distance between ancient wisdom and modern language.

Answer the question: "So, how does acupuncture work?"


Course Overview
What happens when we insert a needle? Is there a biochemical signalling system responding to this kind of stimulation?
Everyday in practice, we see our patients achieve amazing results with the help of our treatments. That said, many of us have been trained using models such as TCM, Zang Fu, and Five Elements that are completely foreign to the cultures in which we live and practice. As such, there's a growing awareness of the need to be able to explain our treatments and results in biomedical terms. We need to be able to answer the question: "So, how does acupuncture work?".

This course is approved by: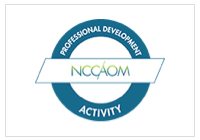 Course Reviews:
Very very well done
Very very well done and makes it easy to present to patients who want to understand via a Western Medical Model.
Great course
Great course
Very well structured and well presented course. Easy to follow and understand, and the information is super useful.
Excellent
Excellent
Clear, concise, engaging and informative – I really enjoyed this short course.
About Instructor

Login
Accessing this course requires a login, please enter your credentials below!