Integrative Oncology online
module
Expand your acupuncture practice with the Integrative Oncology module, covering different aspects in cancer care
Do you want to feel more confident treating patients with Cancer?
Do you want to interact with Western medical community with ease?
Oncology Acupuncture is a growing field in Chinese medicine, and evidence has shown that acupuncture is useful for symptom management in cancer patients.  There is a growing need for practitioners who have the skills, the comfort and the confidence to treat people with Cancer.
The Integrative Oncology Module at TCM Academy provides the Western and the Chinese medical background necessary for practitioners to become part of the Oncology treatment ecosystem.
All 16 courses included in this Module are recognized by the NCCAOM and will allow you to earn 25 PDA points/CEUs.
By completing this Integrative Oncology Module you will also become eligible to join the offline workshop and complete the International Certificate in Acupuncture Oncology.
Included in this module:
Warning signs and early diagnosis of Cancer

Western medical classifications, diagnosis and prognosis of Cancer

The most common western treatments and their side effects

How to communicate effectively with cancer patients

Treatment of nausea, constipation, and diarrhea in Cancer patients

Current research in TCM Oncology

Precautions & contraindications in TCM Oncology

Nutritional support for Cancer patients
Most Frequently Questions
Why an Oncology Module? What is the Idea behind the module? What are its goals? Who teaches it?
The module is the initiative of Dr. Yair Maimon PhD MOD, who has been in the field of Oncology for more than three decades.
TCM has proven to support the healing process of cancer patients, as well as give relief of side-effects from other treatments they receive.  
We decided to create a comprehensive program that enables practitioners of Chinese Medicine to confidently treat Oncology patients. The module provides a solid education in both Western and Chinese medicine. This further provides practitioners with the knowledge to speak clearly and confidently with other medical providers, as well as patients and families.
All of the teachers in the program have a strong background in Chinese and Western medicine. With their education and experience they teach and practice around the world.
How does TCM Academy eLearning differ from other learning methods?
Our eLearning methods are based on the leading understandings in this fast growing fields of education yet are rooted in decade of TCM teaching.
Our aim is to provide students with tailored eLearning, designed specifically to fit the profession and everyday life of a practitioner.
Each course is built from short videos, allowing you to learn at your pace and easily be able to pick up where you left off.  Our style allows easy navigation, easy understanding and easy access to what you want to review again.
Is there a final exam? What happens if I fail?
Each of the 14 courses in the module has an exam. Upon successful completion of each course you will receive a digital certificate from the TCM Academy.
During each course you will have short quizzes after each video, in order to help ensure you have understood the main points of each section.
Should you fail to pass an exam (or quiz) you can take the quiz again. Our format allows you to easily re-watch any segment of a course.
Is this module recognised by any association? How do I get PDA points or CEUs?
All courses in the Oncology Modules are recognised by the NCCAOM, for each course you complete you'll get a certificate which you can submit to NCCAOM in order to get your PDA points or CEUs.
How long does it take to complete the Module? How long will I have access to Module materials?
The online module consists of approximately 15 hours of video materials. The  same amount of time is estimated to be needed to solve the quizzes and exams. How long it will take you is totally up to you. This is the beauty of our eLearning platform, you can learn at your own pace, you are your own master and can decide how much time to spend on learning according to your needs and capabilities.
Once you purchase the module you have unlimited time to complete the Module.
Will I be able to print course materials?
Some courses have printable materials, which is indicated in the course. They can be downloaded and printed.  We are working to bring complete course booklets for the whole program. Once complete, it will be available to all participants, even past participants.
Can I share course information with others?
No. The course materials are for registered practitioners and students only. They are given to you only for the purpose of learning and practicing.
Courses Included In The Oncology Module: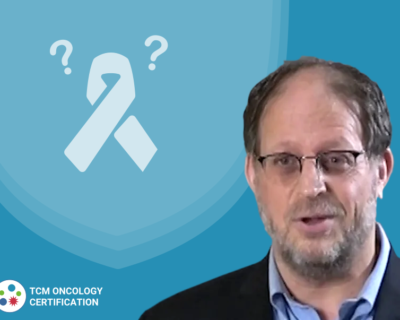 Read More
Clinical Research in Integrative Oncology: Challenges and Solutions Why should we do clinical research, how is it to be done, and what is to...